Esper has been updated to DevRel20.
Dock & Empty Settings App Password– A hidden dock on the device consisting of menu items such as the Esper Settings app can be accessed by tapping 3 times on top right corner or by clicking the power button 3 times. This is meant for developer and field tech access to Settings on Kiosk devices. Accessing the Settings app is password protected. The dock menu consists of multi-app mode – kiosk mode switch, Esper Settings app and Power button.
– The Esper Settings app offers a customized Settings menu that limits the device user to only a subset of available Android Settings. It consists of toggle buttons for Wi-fi, Torch (Flashlight), Auto-rotation and Esper Branding as well as Factory Reset and an About section with Device ID details.
– The text box for this feature in Compliance policy (which is part of creating a Provisioning template) accepts the common password for Dock and the Esper Settings App.
– It is now acceptable to not have any password for these features for the ease of device users in certain use cases. Esper, however, recommends that passwords are setup for stronger security.
View Start and End time of Scheduled App Install– Users can now set and view the Start as well as the End date and time for the Scheduled App Installation for Groups.
Install and Uninstall Apps in Launcherless mode– Users are now able to install and uninstall apps even when using Esper Agent in a launcherless mode where it acts similar to any other app on the Android device while still running the device management functionalities in the background.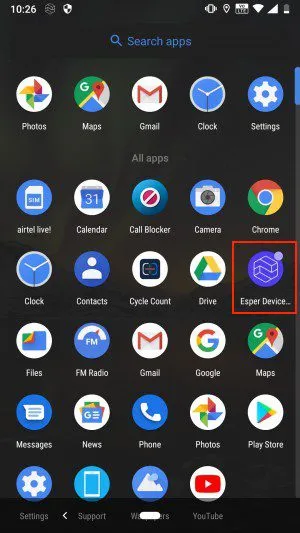 Notch based Displays– Esper Agent is now compatible with devices (such as Nokia and Vivo) with the trendy notch based display screens. We have adjusted the notch into our device agent for a flawless experience for the user.
Paginated Geofence View– View all applied geofences on your devices with ease on Esper Dashboard.