This feature is available for: ✓ Templates ✓ Blueprints
You can generate a custom report for a specific period of time. Use Custom Reports to generate a log for your fleet and track changes from day to day, week to week, month to month or year over year.
In this article:
Generating a Custom Report
Custom reports, like daily reports, contain the following information:
Device name

Alias name

Serial number

Custom Serial number

IMEI

Status

Days active

Days inactive

Registered on

Last known location

Last seen

Group path

Esper agent version

Brand

Android version

Model

Tags
Step 1: To generate a custom report, navigate to the 'Custom Reports' tab.
Step 2: Select the device group for which you wish to generate reports.

Step 3: Select the start date from where you want to generate reports.

Step 4: Select the end date up to which you wish to generate reports.

Step 5: Click Generate Report.

Step 6: Your report will be generated.

Downloading a Custom Report
Navigate to the Report section. Inside the 'Daily Report' tap, click the Download option under the Actions.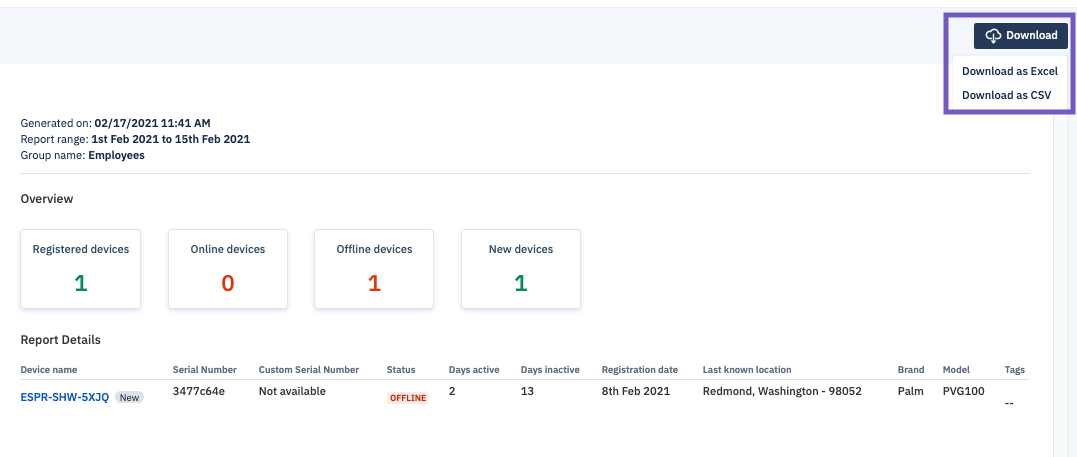 The reports can be downloaded as an Excel spreadsheet, or a .csv file. Choose the required option from the dropdown.
Use Custom Reports to track information about your devices.