This feature is available for: ✓ Blueprints 2.0
This feature is in Beta. It's only available for certain customers at this time.
In the past, Esper used Templates to create a uniform device experience. However, Templates couldn't be updated. Compliance Policies needed to be added, and then applied to devices. With Blueprints 2.0, users now have tighter control over the updates for their devices without the need to create compliance policies.
In this article:
Comparing Templates to Blueprints
Not only would you need to cross-reference the template to remember all previous settings, but you would also have to cross-reference any previously created compliance policies to apply those settings.
Now, with our newest iteration of Blueprints, you'll be able to update blueprints and apply those updates to devices in a centralized manner.
No need to remember previous settings.
Have a small change? Update the blueprint, publish, and converge.
Have a big change? Update the blueprint, publish, and converge.
All devices are provisioned through a blueprint, so there's no need to apply those new changes every single time, making Blueprints the fastest choice when it comes to device management. You'll also have total control over which devices receive the updated blueprint. Test out the updates on one device before applying it to your whole fleet.
Migrating from Templates to Blueprints 2.0
Want to try out the new Blueprints 2.0 experience? If you're on the Templates experience, you'll be able to upgrade to the Blueprints experience at any time with just two steps:
Copy the Blueprint from a Template
Upgrade the devices
Note that Blueprints 2.0 won't be immediately available to Templates customers at release. Templates-based customers will receive the update in upcoming releases.
Requirements to Use Blueprints 2.0
Would you like to migrate to our latest Blueprints experience?
Your devices will need to be on Esper Agent v 7.8 or later in order to use Blueprints. Check your Esper Agent version.
See how to:
Understanding Blueprints 2.0
Blueprints 2.0 encodes the Desired State of a device. Basically, anything in a blueprint will be on a device, and anything not on the blueprint won't be.
Key term: Desired State.
The way a device should behave is based on the blueprint.
Whenever you create a blueprint, you specify the Desired State for a device. This is true for applications, brightness settings, Wi-Fi access points, and other settings.
Here's another way to understand how a blueprint controls a device.
Controlled by blueprint (Desired State)
Not controlled by blueprint

Device settings
Files as specified in the blueprint
Applications as specified in the blueprint
Wi-Fi Access Points as specified in the blueprint

Battery life
All other files (including those pre-installed or from other entities)
All other applications
Pre-existing network credentials or those added during the 6-tap QR code onboarding method
Linking
After creating a blueprint, it can be linked to a device or a group of devices. We called this a link.
There are different ways to link a device to a Blueprint:
Link a single device to a Blueprint
Link a Group to a Blueprint
Add a device to a Group that has a linked Blueprint
Once a device is linked to a blueprint or added to a Group with a blueprint, it converges to match that blueprint.
Key term: Converge
The action of bringing a device to a Desired State.
However, there may be points where the device needs to change its configurations. Let's say you loan the device out to a worker during the day. That worker should be able to make any changes on the device during their shift. When a change is made to a device that's not specified in the blueprint, that's called Drift.
Key term: Drift
The action of bringing a device out of the Desired State.
Once it's time to return the device, you can check which devices are in Drift and Converge them back to the blueprint, and back to their Desired State.
This flexibility allows you to have control over your device fleet without sacrificing the user experience.
Blueprint Settings
Blueprint Settings have also been updated.

Now, you'll be able to choose when the setting is applied:
Always - Always apply the setting whenever the device converges with the blueprint. This setting helps keep devices in compliance after each blueprint update.
Provisioning Only - Only apply the setting during provisioning. This behavior mimics the Template experience and may be useful for some use cases where device settings vary after provisioning.
Ignore - For settings that give users total control of the device.
About Zero Blueprints
For customers who were on our previous Blueprints experience, you might have devices that were not linked to a blueprint. In that case, we've created a default blueprint for that device. These default blueprints will not change the device they're linked to in any way.
To view the device's blueprint, locate that device in Devices & Groups, go to the Overview tab, and click on the blueprint.

When you click on the blueprint, you'll see that all settings are set to Ignore.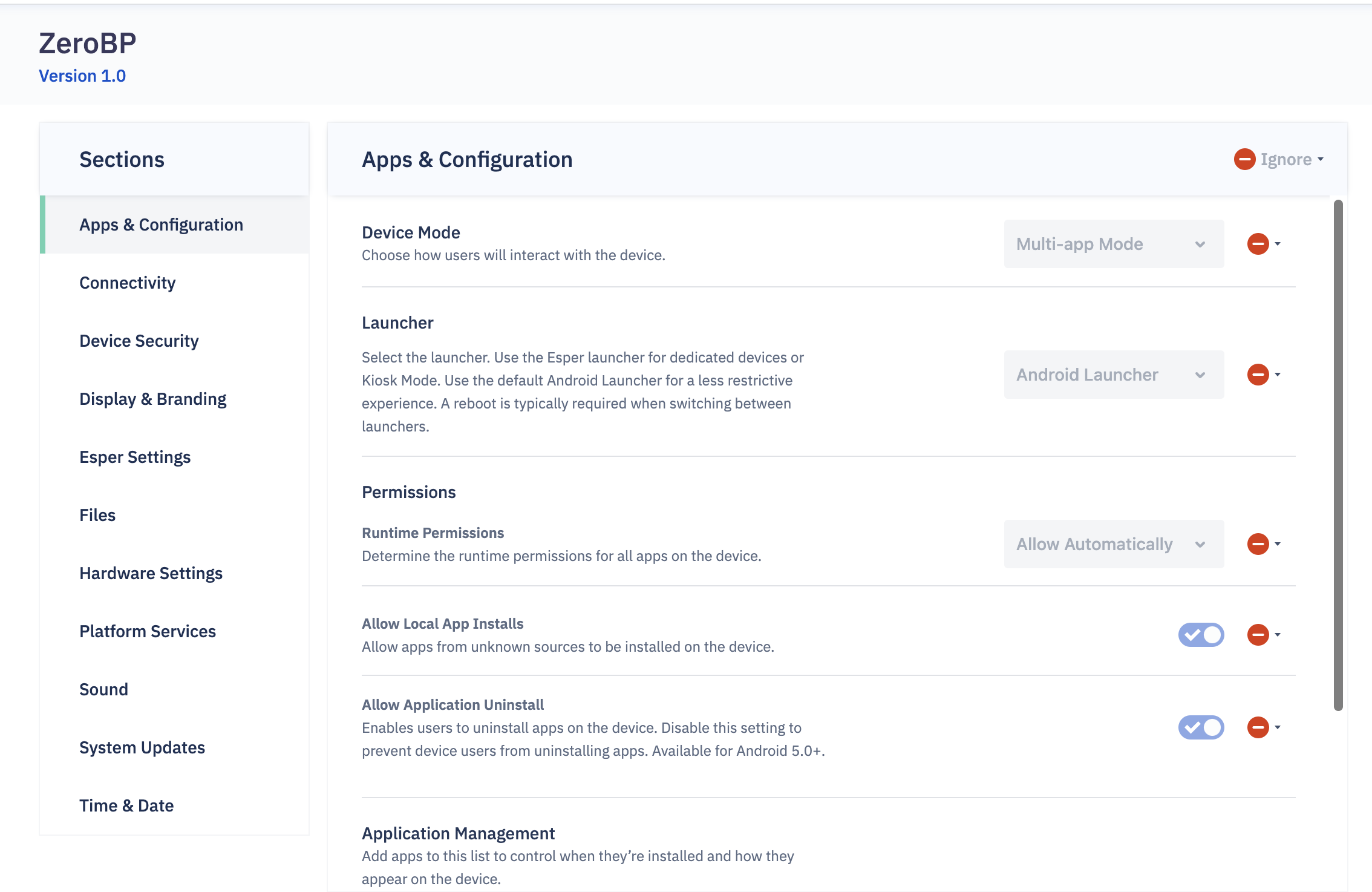 You can always move these devices to a new blueprint, or update the blueprint they're currently on.