The Esper Console gives you access to Play for Work, the enterprise version of Google Play. Within Play for Work, you can approve applications, which can be installed to your GMS devices. You should sign up for Google Play for Work before creating a template that manages device applications.
Google Play does not support AOSP devices.
If you give the users access to the Google Play Store app on the device, you can limit installable applications from the Play Store to Esper-approved applications.
Google Play is a service provided by Google, Esper does not control every aspect of the user experience for Google Play.
In this article: 
Subscribing to Google Play for Work 
If you have not signed up for Play for Work to create a managed Google Play account for your Esper Endpoint, navigate to Apps > Play Store.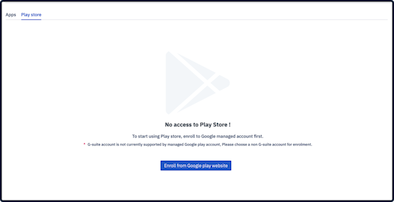 You will need a Gmail account to create your managed Google Play account. You can not use a G Suite account. A best practice is to use a dedicated Gmail account for this purpose.
Click the Enroll from Google Play Website button.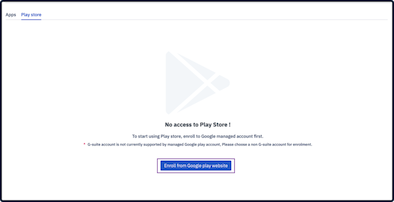 On a Google's managed Google Play sign up page, click Sign in.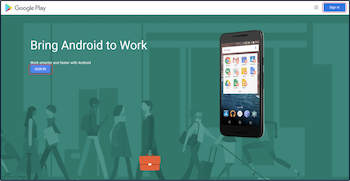 Sign in to the Gmail account you intend to use for enrollment.
If you are already signed into a G-suite account you will see a slightly different screen asking you to choose a non-G Suite account to continue. Just copy the URL, open a new Incognito window, and go to the URL. You should now see the SIGN IN button. You can then use an existing Gmail account or create a new one as needed.
Fill in the information requested by Google, including your company name, optional contact information for your Data Protection Officer and/or EU Representative. Accept the agreement, and click Confirm.
Click Complete Registration.

You'll be navigated to your Esper Endpoint. If you used an Incognito window, you'll need to log into your Endpoint. If you're already logged in, you'll see a screen in Esper indicating enrollment is in process.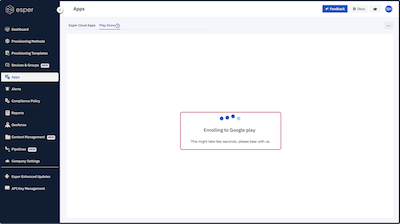 Once the process completes, you'll have Play Store apps available to use with your GMS devices on Esper.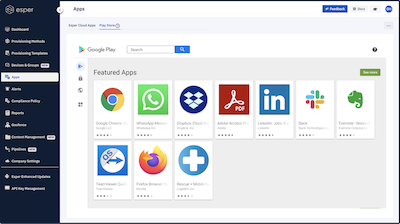 Unsubscribing from Google Play for Work 
Esper does not know when you delete your organization from Google EMM enrollment. Provisioning failures may occur when after unsubscribing. Reach out to Esper Support if you plan to unsubscribe from Google EMM. 
If you still wish to unsubscribe your email from Google Android for Work, get in touch with Esper by submitting a ticket.
Step 1: Go to the Google Play Admin Settings page. If you are already signed in, you will see an option to 'Switch Accounts'. Click Switch Accounts to switch to the Gmail id you used for enrollment.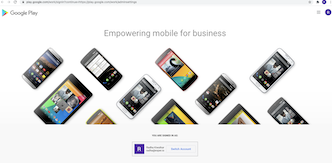 Step 2: Select your account or give login credentials.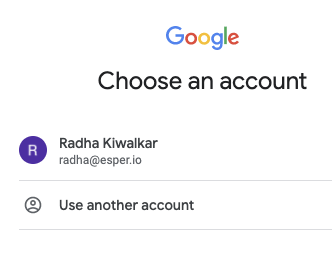 Step 3: Under Settings, navigate to the "Organization Information" section. Click the vertical ellipsis on the right. Choose the option to "Delete Organization." Now your email will be disassociated with the said organization.